I spent my childhood summers in a place in upstate New York called Jeffersonville. We called the house and town both "Jeff". My father bought Jeff for a song back in the late '80s with the idea that the family would rebuild. He figured that he's a carpenter and my mom could start an edible garden. Over the first few years, the place got electricity and indoor plumbing.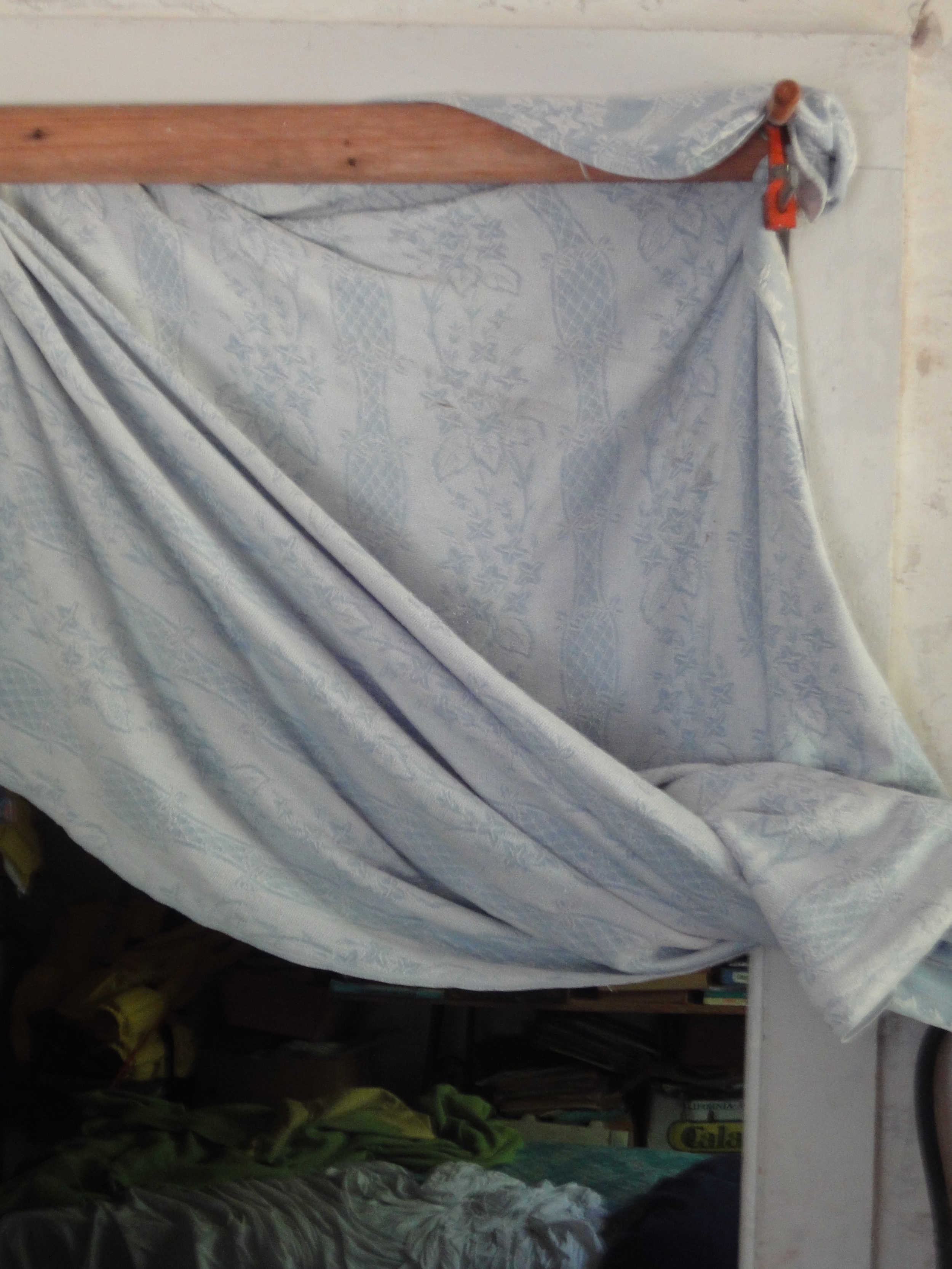 Around ages 12 and 11, my brother and I helped put up a new roof on the house. But it never really became fully livable: all the indoor walls were never put in and one of the outdoor walls was permanently Tyvek HomeWrap. Then, because our father didn't have as much time, it started getting worse again. Someone stole the copper piping and he needed to replace it with cheaper plastic stuff. The new roof got old again.
This was not a primary home, nor example of American poverty; we were certainly middle class. Rather, it was a choice -- not without merit -- to escape the humid Brooklyn summers upstate and a decision of how to live.
When my father bought it, he envisioned it becoming a fully livable place for the family with my mom growing an edible garden in the back, but his vision for seeing a fully livable place was never equaled by financial resources or free time to build, and so rather than becoming more livable over time he's basically kept it at the same level.
My father still goes up during the summer, but no one else really goes (including me other than this trip in 2013). Now he thinks of it as a retreat to escape to, I suspect.
A view from my old bedroom. The main heating was a woodstove, which really wasn't enough to keep it warm during the rare wintertime trips.
In childhood, living in this environment for months at a time felt natural and just "what you did." We had really fun days exploring nature and inventing games, as well as really boring days where we missed the city.
Jeff just collects all kinds of discarded and broken things that have a beauty to them, but are also often a little strange too -- a GI Joe action figure missing an arm and his legs reaching out of an old porcelain container, a rusting bathtub full of woodscraps, it's just odd. The flotsam and jetsam of our childhood.
I remember finding baby snakes in this VW Bug as a 10 year old and running all the way down the field, except in the memory the Bug is silver.
The cat of the house was named Mulasaki or something mispronounced to that effect. Mostly she spent her life being called "Kitty". This originated because I wanted to name her "Purple" because Stone Temple Pilots had an excellent album of that name around that time. This name was rejected, and so I asked a Japanese family friend how to say Purple in Japanese. She said "Murasakino," which was accepted as a cat name but no one in the family could remember or pronounce it. Hence, "Mulasaki." Hence, "Kitty."
I'm a lawyer now. It was destiny. Lawyers always fuck things up in clever ways.
My brother's childhood pet was a beagle named "Sam". Beagles became something of an iconic animal around the house. My father's email address remains to this day "SamuelBeagly," a logical outgrowth from his habit of signing checks in Sam Beagly's name and signing him up for raffles and magazine subscriptions. There was a newspaper clipping on our Brooklyn house fridge all about radioactive beagles in Moscow.
We had 13.2 acres to wander on -- mostly hills and some woods. Calvin & Hobbes would approve.
A porcupine lived in the basement for a time. Wasps and bats lived overhead in the ceiling space. Moths fluttered around hanging caged construction lamps. The place was so overrun with non-human life that the I often felt that it was I intruding on them and not the other way around.
One summer, we killed over 40 mice.
Two-headed monster with mohawk and many eyes. My early clay art.
In Jeff's shower, the splotched walls became sort of Rorschach test for me in the sense that I saw a specific image in each: Cyclops from X-Men, a dude punching air and a pair of penguins.
In this close up, I saw a wolf's head
In 1994, a family friend's son died at a very young age to leukemia.
Around the time of the death of Joaquin, the mother of a close friend died in a bike accident because she wasn't wearing in a helmet. The news was delivered on this porch, but at first I thought that it was a humorless joke. To this day, I wears my bike helmet even for short rides. You should too.
My heavy reading habits were developed at Jeff. There wasn't much in the way of things to do other than maybe hear a ballgame on a static-filed radio, listen to classic rock and read. Our whole family reads a lot anyway.
At first, I read mostly light stuff. Jurassic Park, Lord of the Rings, anything from the sci-fi section of the local library, that sort of thing.
On one fateful day, I asked my father for something new and he gave me a copy of Kafka's Complete Works. First I turned to "A Country Doctor", which made no sense to my 12 year old mind.
Randomly, I turned to The Metamorphosis, about a man who turns into a bug and everyone acts as though it was natural, almost unsurprising. To my young self, this was crazy -- Kafka had gone rogue and that someone should stop him. As I continued threw the pages, horror and confusion turned to ecstasy. You could truly write about anything. Writing was limitlessness.
The story was no metaphor to me. A man had turned into a bug and nobody cared. Then he slowly aged, ate garbage, became cripple and died. What could be more purely horrific than this? What could give the story more merit that a pure acceptance of it at face value?
Now if you're familiar with the Metamorphosis, this may seem like an overreaction, but it's an unfortunate truth that the story is often introduced incorrectly: in a high school classroom as a "classic", as a metaphor and (worst) as a homework assignment.
For me it was introduced as a random story in a random book to read on a boring day in the shell of a house, when before this I'd been reading about the delicious assortments of meals that the Hardy Boys were eating after their latest adventure.
As Ginsberg wrote, "Inside of mind is as large as outside of mind" or something to that effect. I felt this.
Still, frustratingly, most of my early stories were pretty terrible. I started with some lousy poetry and moved to lousy short stories. I don't have anything I can re-read without wincing until I turned 20.
Post-Kafka, my reading tastes continued to include a lot of genre fantasy full of epic quests and imagined worlds, but slowly inched towards magical realism like Love in the Time of Cholera and The Brief Wondrous Life of Oscar Wao, and finally I let some realist literary pieces come into the mix.
My own writing development reflects that arc, with the early stories involving dream merchants selling literal dreams out of the back of a dusty carriage, while the current novel I'm working on contains exactly one prominent speculative element.